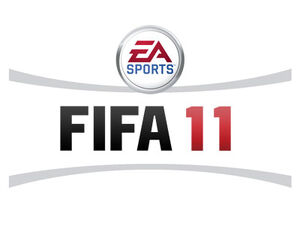 FIFA 11 is a sports simulation game and will be the 18th title in Electronic Arts' FIFA series of football video games. Developed by EA Canada, it will be published by Electronic Arts worldwide under the EA Sports label on 28 September 2010 in North America and 1 October 2010 in Europe. The Windows version of FIFA 11 will be the first in the series to use the same game engine as the Xbox 360 and PlayStation 3.
New features for the Xbox 360, PlayStation 3 and PC
Edit
Personality+ is a system intended to improve the way that players' individual abilities are reflected in-game, resulting in clearer differentiation between players. Personality+ utilises a database containing 36 attributes and 57 traits for each player, maintained by a worldwide network of 1700 scouts, editors, and reviewers.
Pro Passing is a new passing system where the gamer's own accuracy with the control pad, as well as the situation and skills of the players on the pitch, determines the accuracy of each pass.
Creation Centre is a new web-based application which allows the user to create material to download to their console and share with their friends. Created teams names, kits, players and home stadia can be customised and players can be edited in a more in-depth way than before.
For the first time in the series the player will be able to create their own personalised soundtrack by importing their favourite music into the game. Customised chants can also be imported and a club's anthems and chants can be set to play during introductions, halftime, after goals, or at the end of matches. The player's virtual pro's name can be chanted in the stadium.
|
|
|
|
|
|
|
|
|
|
|
|
|
|
|
|
|
|
|
|
Release Dates
Edit
NA 28 September 2010
EU October 2010
Community content is available under
CC-BY-SA
unless otherwise noted.